Volumio's latest update to their version 3 software, UNIVERSAL, has been touted by the Volumio team as its biggest release yet. So what's in this new release that we haven't already seen in previous Volumio releases?
Pre-UNIVERSAL, Volumio is already one of the easiest to install operating Systems to create an Airplay endpoint streamer, and we already have access to a decent number of plugins built by Volumio and the open-source community that Volumio fosters.
For the hi-fi enthusiast you can stream your lossless audio files by connecting to a Network Attached Storage (NAS) or USB drive, add files directly to the Micro SD card running the Volumio software on your Raspberry Pi, or stream lossless audio using integrations with Spotify, Tidal Connect and Qobuz.
Volumio also supports a huge number of DAC attachments so you're very likely to be able to integrate the streamer into your existing hi-fi set up without having to tinker much at all. Of course, if you do love to tinker there are plenty of settings to tweak and tune in the pursuit of audio perfection.
See the list of USB DACs compatible with Volumio here
What's new in Volumio UNIVERSAL?
So what has Volumio UNIVERSAL added to its already formidable music aggregation software? There are really only a few major additions with UNIVERSAL, but they are fully inline with the concept of UNIVERSAL compatibility as implied by the release title.
Volumio UNIVERSAL introduces the Output Menu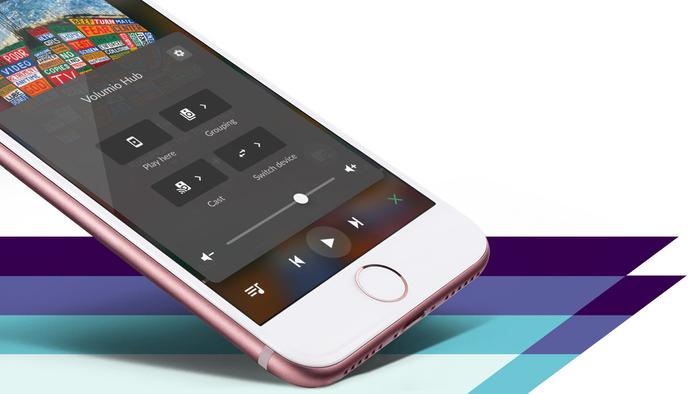 You can access the new features for Volumio UNIVERSAL with a new menu screen which is being called the "Output" menu. Through the Output menu you can control things like volume, multi-room playback, Play Here (new in UNIVERSAL), and casting to third-party devices (new in UNIVERSAL).
Volumio UNIVERSAL is compatible with SONOS, Chromecast, and most other playback devices
In addition to streaming from any online source you might imagine, Volumio 3.3 UNIVERSAL has introduced a new Output menu item that will allow you to point to just about any popular streaming device as an audio endpoint.
This means that your number of output options has just increased with UNIVERSAL by adding to the list of possible enabled devices. Google Home, Chromecast-enabled Soundbar, Chromecast Audio, and SONOS are now accessible endpoints for your Volumio streamer 🎉
Volumio's Play Here function allows local playback on your iPhone or web browser
Up until now I have always used Volumio as an Airplay endpoint or to stream files from a network attached storage. More recently (since updating to version 3) I've been using third-party plugins to stream from a wider array of sources. No matter what my source might be, the output was always tethered to the Raspberry Pi where I had installed the Volumio software.
That works fine as long as I simply want music playing on a system somewhere in the house, but I don't often listen to music while sitting attentively on a tufted leather Chesterfield. I listen to a lot of music while at work, puttering around the house, working in the garage, etc.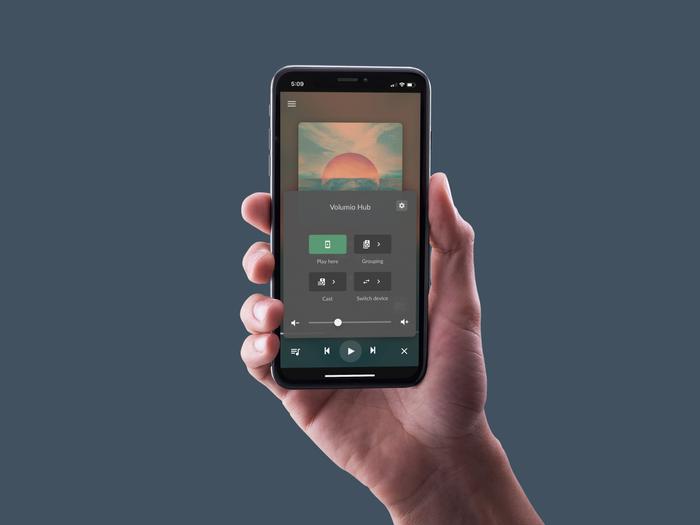 Volumio UNIVERSAL introduces a new Play Here feature to the Output menu, allowing you to use your mobile device as the streaming endpoint.
Play Here allows me to carry the music with me as I transition from one activity to another. This is simply what I expect from an audio streaming application, and it has previously left a bit of a gap in my Volumio experience. Now I'm turning to Volumio more often to stream music from Bandcamp, Mixcloud, Soundcloud, or YouTube Music to my iPhone or desktop computer while the Raspberry Pi that I use to run Volumio stays comfortably attached to a stereo system elsewhere in the house.
After a few months of using this new feature I can say that the connection is not as reliable as streaming directly from the Raspberry Pi (where I have Volumio installed). Sometimes I have to toggle the Play Here feature on-and-off-again a couple times to get it to "stick". It's a great feature that still feels a little buggy to me.
Volumio's Manifest interface is now available to non-premium users
You might remember the Volumio team had previously introduced a new minimalist theme called 'Manifest' for premium users.
Volumio's Manifest UI is now available to all users of Volumio UNIVERSAL, creating a more consistent user experience for freemium and premium customers while navigating the App.
Though it's not perfect, Manifest provides a sleeker UI and quick access to the aforementioned Output menu. In general it's a significant aesthetic improvement to the previous 'Classic' and 'Contemporary' themes (both of which are still an option if they're your preference).
Read Volumio's press kit for UNIVERSAL here: Introducing Volumio UNIVERSAL